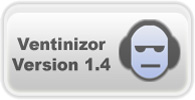 Ventinizor: This program makes it possible for you to switch between the different voice programs thats being made. With this program you cannot only switch between Ventrilo's but also choose Teamspeak or Mumble.
Multiple Ventrilo's can be opened of the same type.
Only Ventrilo's of the same version can be opened at the same time this to keep your passwords saved.
Supports Ventrilo, Teamspeak and Mumble This program has been tested on Windows XP and Windows 7. Use on own risk.
Install Note: If you have an old Ventinizor installed, just install this new version in the same directory. This means just installing this new version over the old one. If this is the first time you install Ventinizor you can install it where ever you want.
Features:
Use the new Ventrilo but also the old ones.
Possible to run more then one Ventrilo of same version.
Mumble included
Teamspeak included.
Saves passwords of each Ventrilo
Load your current Ventrilo settings into Ventinizor
Changelog 1.2:
A first time wizard that will help you save your settings.
Backup your original settings and also load them back in.
Change in popup location of Ventinizor on screen (Multiple Screens).
Changelog 1.3:
Added Teamspeak.
Added some extra information for wizard.
Possible to open more vents of the same type.
Minimized to system tray where you can switch between version with right click.
Changelog 1.4:
Added TS3
Added Mumble
New interface for starting up the programs.
Fixed: Sometimes program didn't want to close.
Close button now means close and Minize button is minimize.
Removed Ventrilo 2.2.0
Shortcuts added for startup programs press one of the following numbers in Ventinizor, 1 2 3 4 5 6 7 8
First Time Wizard:
What's the last used version - Select the version you used last, this will make sure the settings and passes get saved of the last used version.
Copy last used settings to all version - This will make sure you have the ip's and settings in all version, if not selected the ip's and settings will only be loaded into the Ventrilo version selected in question above. No need to do this when you switch from older ventinizor.
Backup last used Ventrilo settings - This will backup the settings of the Ventrilo selected 2 questions up.
If you find any bugs please report them.
Ventinizor, Copyright (C) 2008 - 2010 Mathijs "Lightning" Hoekstra Ventrilo copyright Flagship Industries, Inc. All rights reserved. Teamspeak copyright TeamSpeak Systems GmbH. All rights reserved.